08-22-2015, 03:22 PM (This post was last modified: 08-22-2015, 03:26 PM by ReggaeDarts.)
Hallo. My Father showed me his Old Darts the other Day, he dug 'em out of from where they've been stashed.
These Darts have a story of such, they've been around the world, they've been Customized and probably seen a Punch up or Two along the way knowing my Father.
My Father was a Merchant Seaman from when he was Hard-Collared into it by my Grand-father back in 1960 at the age of 16, my Father was a bit of a Toe-rag as a lad. He spent a few years at Sea, then in 1965 at the Age of 21 he decided to become a 10 Pound Pom and emigrate to Australia.
My Father need some Darts to take with him, so the ones I'm about to show you he Stole from his Local Pub; The Queen's Head in Charing. ( Charing is a Village in Kent, a County in South-east England. My Fathers family moved there in the late 40's from Charlton, South-east London after the War ). These Arrows according to my Dad were the Bar Darts in the Pub, he needed a Set, so he Half-Inched these. He spent 2 years in Australia before returning to Sea with the Merchant Navy.
They started life as Brass Barrels. In the Late 70's after my dad left the Merchant Navy and he was living in Aylesbury, Buckinghamshire... he got them Silver Plated at a place he was working at the time.
Here's what they looked like when he presented them to me...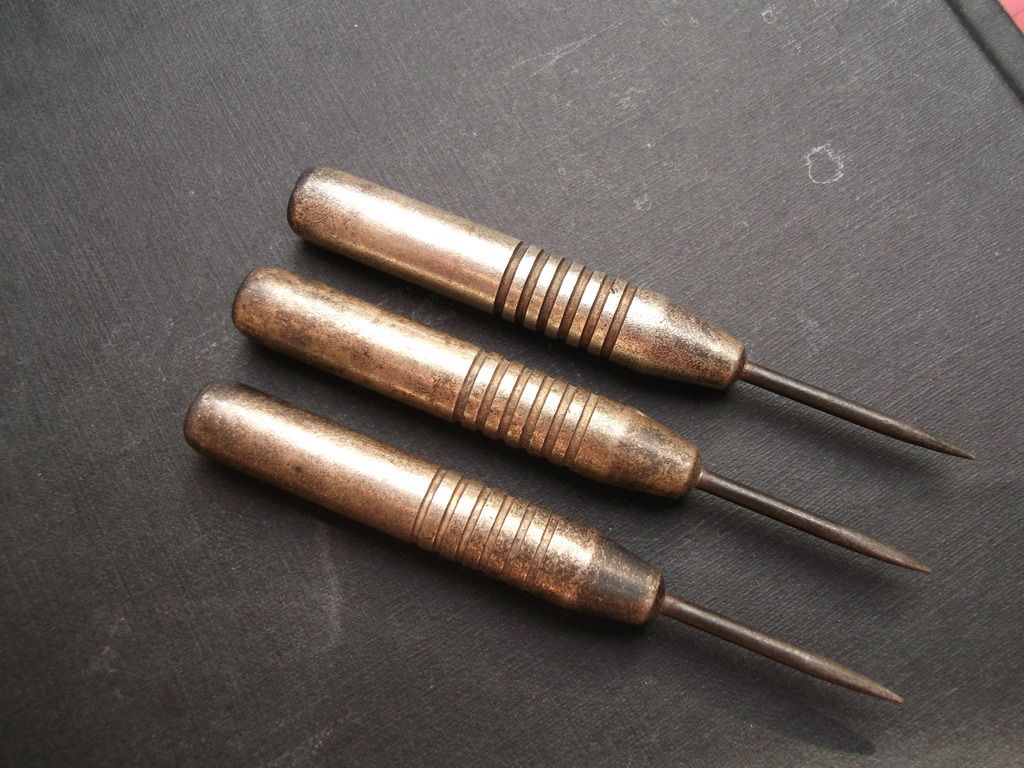 " border="0" alt="resim" onload="NcodeImageResizer.createOn(this);" />
Here's what they look like after applying some Silvo...
" border="0" alt="resim" onload="NcodeImageResizer.createOn(this);" />
Here's the case he had them in. It's Battered, with some repair work done. My Father says this case is not the Original Case, so the Unicorn inlay does not represent the Manufacturer of the Darts in the Pictures...
" border="0" alt="resim" onload="NcodeImageResizer.createOn(this);" />
Spec: 55mm Length, 23g Weight, 9mm Diameter. They are drilled out by 18mm. The Shaft thread is not 2ba, it's Larger so more than likely 1/4".
These are a complete mystery Dart, My Dad acquired them in '65, so that makes them at minimum 50 years old, do their origins go back beyond 1960 in to the 50's... I don't know. I find them fascinating, their journey from the Queens Head in Charing, to this Forum even more so.
Cheers.